Angelina Jolie In 2012
And why not?
Funny isn't it that we've had an actor as president and several actors as governors yet we don't see actresses step up to the plate and
run for office. Perhaps this article will start such a discussion by advocating that actress Angelina Jolie should run for office in 2012 —
any office, White House too.
Apparently, there have been already rumors that she may quit Hollywood and go to Washington, D.C. But let's dig deeper, shall we?
QUALIFICATIONS
Angelina Jolie has several awards under her belt for her humanitarian work around the globe. As a UN Goodwill Ambassador, Jolie
has raised awareness about war, rape, famine, and poverty that people in several countries in Africa and other continents face.
She got started back in 2001 when she was filming the first Tomb Raider movie and she never looked back. Since then, Angelina Jolie has done work in the following countries:
Congo
Tanzania
Namibia
Chad
Kenya
Darfur
Cambodia
Haiti
Sierra Leone
Angola
Angelina has also done humanitarian work here in the US.
In Louisiana, she and her one-day-to-be husband Brad Pitt were active in helping with the recovery efforts after Hurricane Katrina devastated New Orleans. They raised hell when they saw FEMA's relief efforts were slow.
If a dummy like Sarah Palin can run for president without knowing anything about world geography or ever visiting another country, why
wouldn't a well-traveled and intelligent woman like Angelina Jolie not run?
Foreign affairs experience? You betcha!

COMMITMENT
On December 11, Angelina Jolie wrote an opinion piece for Newsweek urging leadership from President Obama to act on the genocide going on in Darfur.
"…When the administration says it intends to work to
'improve the lives of the people of Darfur,' I would like to know what
that means, besides the obvious point that their lives could hardly get
worse," Jolie wrote.
Angelina has remained committed to Darfur — bringing attention to the 300,000 people killed and 2.7 million displaced by the military
army in that country. Writing such an opinion piece — directed at Obama — takes a lot of passion for the cause. She even said that if Obama wants to earn that Nobel Peace Prize, that Darfur is the place to start.
Would she be committed the same way to fight for the American people? You betcha!

REAGAN WAS A MAN, ANGELINA IS A WOMAN
Yes, that's what it boils down to. Unfortunately, we live in a society that has a double standard for women. Men actors can do
anything they want, run for office and WIN like:
Arnold Schwarzenegger
— posed naked for photo shoots during his days as a bodybuilder. Now, Governor of California.
Jesse Ventura
— paraded around in a leotard as a professional wrestler. Got to be Governor of Minnesota
Ronald Reagan
— played cowboy, soldier roles going around shooting people left and right. Elected for California governor
twice, served two terms as U.S. President.
NOT AN ACTOR, BUT HELPS TO MAKE A POINT:
George W. Bush
— snorted cocaine and drove drunk. Elected as governor of Texas twice, served two terms as U.S. President.
What a sick voter base the right wing has.
ATTACK ADS
Knowing how loony the right-wing is, if Angelina Jolie were to run for office, the TV ads would show clips of her work as an actress —
being a trouble maker, mentally ill teenager ("Girl, Interrupted"),doing heroine and kissing other women ("Gia"), being a cold blooded
killer ("Wanted"), and kissing her brother on the red carpet (reality). Yes, that would be their style of trying to ruin her, but if Jolie
hires a smart campaign director — her image could overcome all of the roles she has played in her movies. Plus, her resume speaks for itself!
Angelina Jolie has tons of connections — maybe even as many as God's — her endorsers would be a huge long list of actors (including Brad Pitt), international dignitaries, and political figures. This is not counting the millions and millions of fans in the US and abroad, which
makes me wonder….
Will she carry the youth vote? You betcha!
Will she carry the gay and lesbian vote? Hell yeah!
Will she carry the liberals in Hollywood? Duh.
Will she carry the progressive vote? If she hated W. Bush, darn right!
Will she carry the Latino vote? Why not? She looks kind of Latina.
Will she carry the black vote? Holla!

THE WOMEN VOTE
Now, the women vote is a tough one. Let's remember that with all the issues American women suffer from: body image insecurities, jealousy envy, designer shoes & clothes addiction and more, the women vote may be difficult for Angelina Jolie. Many women resent her for being too beautiful, while others see her just as an object in this sex-obsessed society.
Plus, not to be funny, but the women vote may also be split by the Brangelina haters (usually Jennifer Aniston fans). But this is nothing
that Angelina can't recover from since tons of women may be voting to see more of Brad Pitt around. It's a win-win.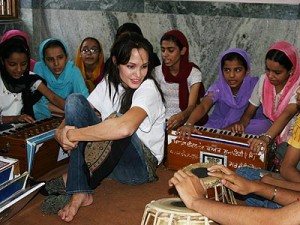 FAMILY VALUES
I can't believe I have to talk about this — last time I checked Angelina Jolie was married and had six kids. The woman is a kick-ass
mom raising three adopted kids, plus her natural children. She and Brad seem to get along well for the most part even if the tabloids keep saying that the two are separating.
The right wing will point out that Angelina lacks family values because she doesn't speak to her dad, but that can be easily fix if
John Voight endorses her. They still don't need to talk after that, but showing that the father-daughter relationship is civil will testify to
her values.
BUT WHY?
We need leadership and people with passion and commitment to run for office. We need people who are smart and dedicated to helping their fellows. We need more eye-candy in Congress, all those old white men in the House and Senate give me nightmares.
America was ready for a handsome, intelligent black president, it's time we elect a beautiful, bright actress to serve the American people
and the world. Angelina Jolie would make a terrific politician, it would make EVERYONE want to register and vote for her, and it will
engage Americans who had never cared about politics to start watching the news.
ANGELINE JOLIE IN 2012.
To read Angeline Jolie's op-ed in Newsweek, click here.
PS: Thanks to my readers for reminding me Brad and Angie are not
married and the correct number of children. I may be reading the wrong
tabloid.
credit/source
I like this girl!

Nirvanic




Posts

: 184


Join date

: 2009-12-02


Age

: 116


Location

: New York City



---
Permissions in this forum:
You
cannot
reply to topics in this forum